I've seen first hand the power of social media. 
I've helped businesses, bloggers and entrepreneurs all over the world grow their businesses through social media and content marketing. Along with my partner Emilio, I built Institute of Code from an idea in my living room to a business with over $1 million in revenue in just under three years. And now I teach people how to grow a following and build a sustainable business with multiple income streams using social media.
Why then, if I have all the knowledge and skills at my disposal to grow other people's social media following by thousands, has my own growth been SO SLOW?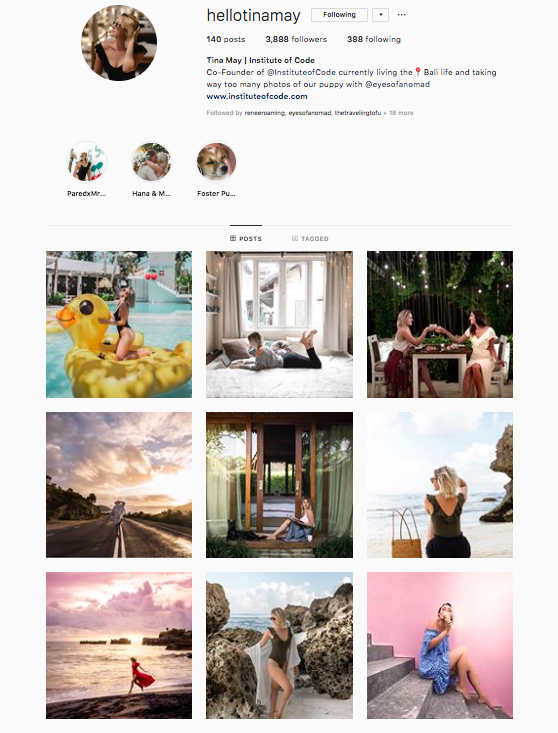 Because you need more than just skills and strategy to grow your Instagram. You need to put in a serious amount of work over months – if not years – to see results.
My account hasn't grown because, quite simply, because I haven't been putting the time into it.
Up until now, I've been busy growing a company that runs immersive retreats, setting up a life in Bali, adopting a rescue puppy and nurturing my friendships and my relationships. And this takes up a lot of my time.
As an entrepreneur I've had to realise that you can't do everything all at once. And building my personal brand just wasn't a priority for me. 
Up until now, that is.
Why I want to grow my personal brand
"Your brand is what other people say about you when you're not in the room." 
– Jeff Bezos, founder of Amazon.com
Your personal brand is a powerful thing. It tells the world what you're all about, connects you with the right people and opens up a world of professional opportunity. 

There are many reasons to put time and effort into building a personal brand. Here are just a few…
Having a strong personal brand helps you grow your business 
Over the past three years, one of the ways we've increased awareness of the Institute of Code has been through influencer marketing – finding individuals with a strong, engaged following on social media (typically 100k to 350k) and inviting them to attend our courses for free (and, depending on their size, sometimes payment as well). 
Influencer marketing connects your brand or product to hyper targeted, engaged audiences that convert quickly. And I've spent tens of thousands of dollars paying influencers for that reason.  
Good influencers, those who have built trust with their audience, can generate thousands of dollars in revenue for a business with a single Instagram post. When you hire an influencer, your business benefits from the connection between that person and their audience.
A good friend of mine once hired an influencer to promote her product in an Instagram story – and paid over a thousand dollars for the privilege. Within 24 hours that story had generated $7,000 worth of direct sales.
That's a pretty fantastic return on investment. 
So imagine for a minute how powerful it would be to have your own audience that you could leverage to grow your business. 
Becoming a thought-leader, or prominent influencer, in your industry is an asset to your growing your business. 
I have a message I want to share with the world 
It might sound cliche, but I'm a big believer that when you're deciding where to invest your time, you need to be led not just by your head but by your heart. 
Why have I spent the last three years of my life building Institute of Code? Because I want everyone to have the opportunity to wake up every damn day excited about the career they have and the life they are living.
I believe that our innovative educational model, where we have created the ultimate learning environment to get our students into the flow state, is the best way to achieve that. I know that we're teaching people from all over the world skills that will change their lives, and that's what gets me up in the morning and keeps me going every time we hit a roadblock. 
It's an amazing feeling to know what you want to share with the world and the difference you can make to people's lives. And focussing on my personal brand means I can reach even more people than would be possible through our in-person courses alone. 
Growing a social following requires A LOT of hard work and consistency – so you need to understand what you want to share, who you want to share it with and how you can make an impact on their lives. 
The return on investment is incredible (and you get lots of free stuff!)
As you grow your personal brand and social media following, brands will offer you lots of opportunities for 'collabs' – where they gift you their products in exchange for promotion on your social media accounts and, often, content creation (taking beautiful photos with their products). 
Most students at our social media bootcamp start with 500 - 1500 followers on average. After only 10 days working on their personal brand and learning how to pitch, 70% of them land their first collab within just a few weeks. 
And, of course, through my partner Emilio's personal brand Eyes of a Nomad, we've been invited to stay at some of the most beautiful hotels in Bali (some that cost thousands of dollars a night!), have collaborated with fashion brands, homeware stores, restaurants, PR companies, spas and more to receive five-course dinners, VIP tickets to events and thousands of dollars worth of clothing, bags, homewares and accessories.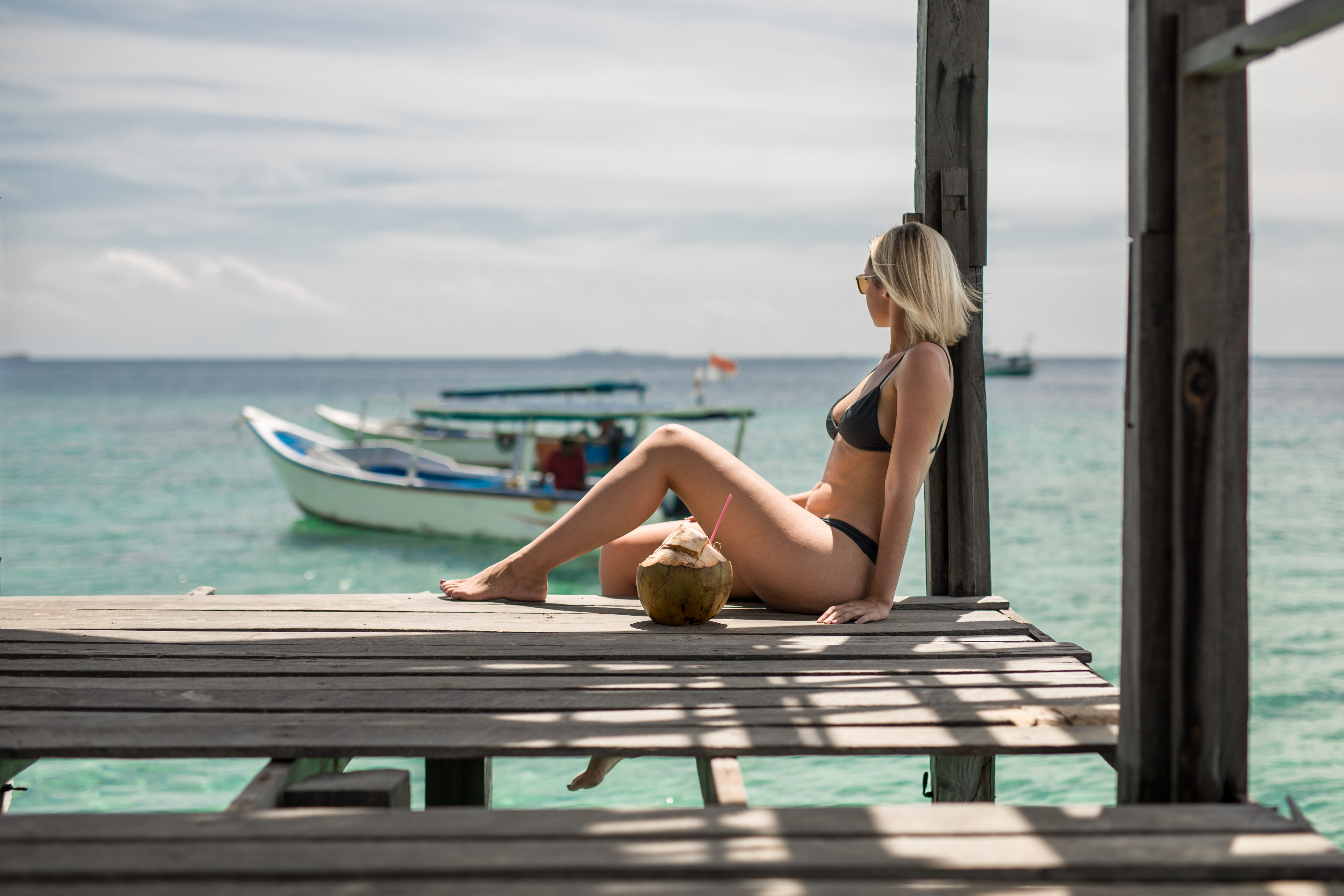 These are the perks that come with having a strong personal brand, even when you don't have a huge following. 
Don't get me wrong – nothing is for free. Emilio and I work hard to deliver more value to a brand than their cost of the collaboration, but it's still a pretty solid return on investment for us. 
A social media following is an asset that grows exponentially
The time and effort you invest in growing your personal brand and building a following accumulates over time. 
The average rate for a sponsored post on Instagram is between $50 - $100 per 10,000 followers.
That means that at 100,000 followers you might earn $500 - $1000 per sponsored post, and at 300,000 followers you might earn $1500 - $3000 per post. 
And with the right strategies and a lot of hustle, this kind of growth is totally possible, even within 1-2 years. This graph below shows the Instagram following of @wzylouisey, one of our mentors for our Social Media & Content Marketing Bootcamp. 

Louise grew her following from 10k in April 2016 to 130k by April 2018. At the time of writing (July 2018) she's up to 165k followers.
Show me another career path where you can double your income potential in 12 months while travelling the world and staying at luxury hotels!
Want to follow my journey from 0 - 10,000 followers on Instagram? 
I'm not going to pretend that growing my personal brand (mostly on Instagram) is going to be easy. It's going to take a lot of hard work and persistence but I've seen the amazing opportunities it brings to those who put in the effort.
Want to follow my journey? Make sure you follow me on Instagram and join our exclusive Facebook community of people growing their first 10,000 followers.