With a stunning Instagram feed jam-packed full of stunning scenery and exotic destinations, it's hard to believe that not long ago Jacob Heston was stuck in a monotonous 9-5 job.
Though the 29-year-old had has always had a knack for photography and a thirst for adventure, he was unsure of how to turn his creative pursuits into a full time business.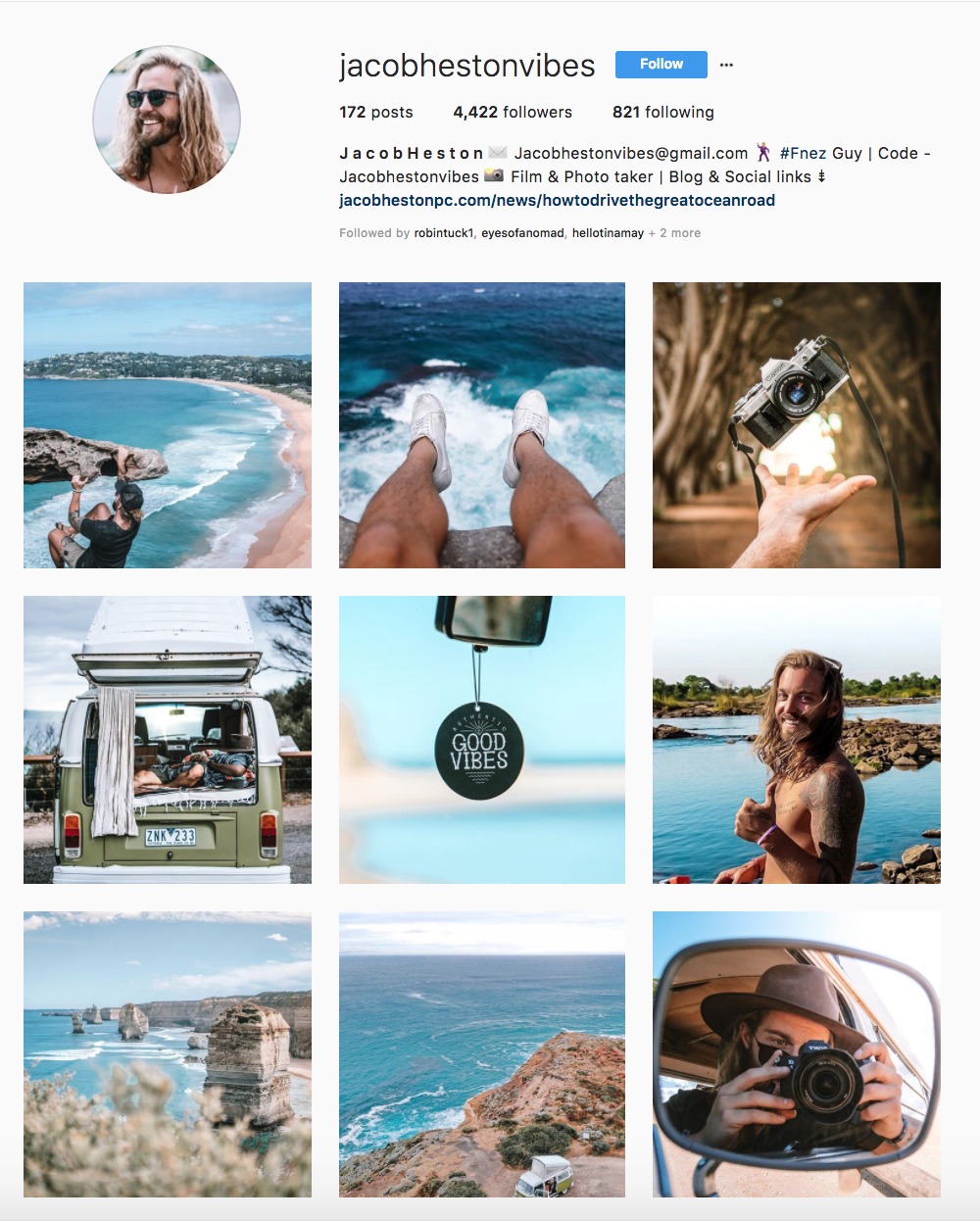 @jacobhestonvibes
@jacobhestonphotocinema
www.jacobhestonphotography.com
Jacobhestonvibes@gmail.com
Narrator: Little did young Jacob know when he enrolled in our Social Media Bootcamp that life was about to change…
Fast-forward a few months later and the Melbourne-native spends his days chasing adventure, his dream career and the perfect shot around the world. All while landing content creation gigs, and plenty of followers, on the road.
We caught up with him to ask about his 10-day learning experience and what life looks like since becoming one of our alumni.
Tell us a bit about life before the course…
Before the Institute of Code I was sick of doing the same old routine day-in-day-out.
I was working in remedial therapy and retail. It was ok but I was always aching for adventure – and sitting behind a desk 9-5 just wasn't for me. I had heard bits and pieces about influencer marketing but at first it all sounded too good to be true.
Between retail and remedial therapy, my hours were long, tiring and repetitive. It was retail one day, massage the next… rinse and repeat.
With years of doing this same old routine, I decided to step out of my comfort zone and seek out a career I was actually passionate about.
I have always chased a good adventure in my spare time and I had heard and seen bits and pieces about influencer marketing through my favourite Instagrammers and such – but thought it all sounded a little too good to be true.
I had a good background in relation to photography – as my father was a photographer – but couldn't grasp how to implement it with a modern twist.
After many long nights researching the 'influencer' lifestyle, I came across the Institute of Code. And boy did it change my life.
I am now travelling through South East Asia with a tour company, jumping from country to country shooting and filming and living the life I've always dreamed of.
I'm not exaggerating when I say that my dreams are now a reality thanks to the Institute of Code.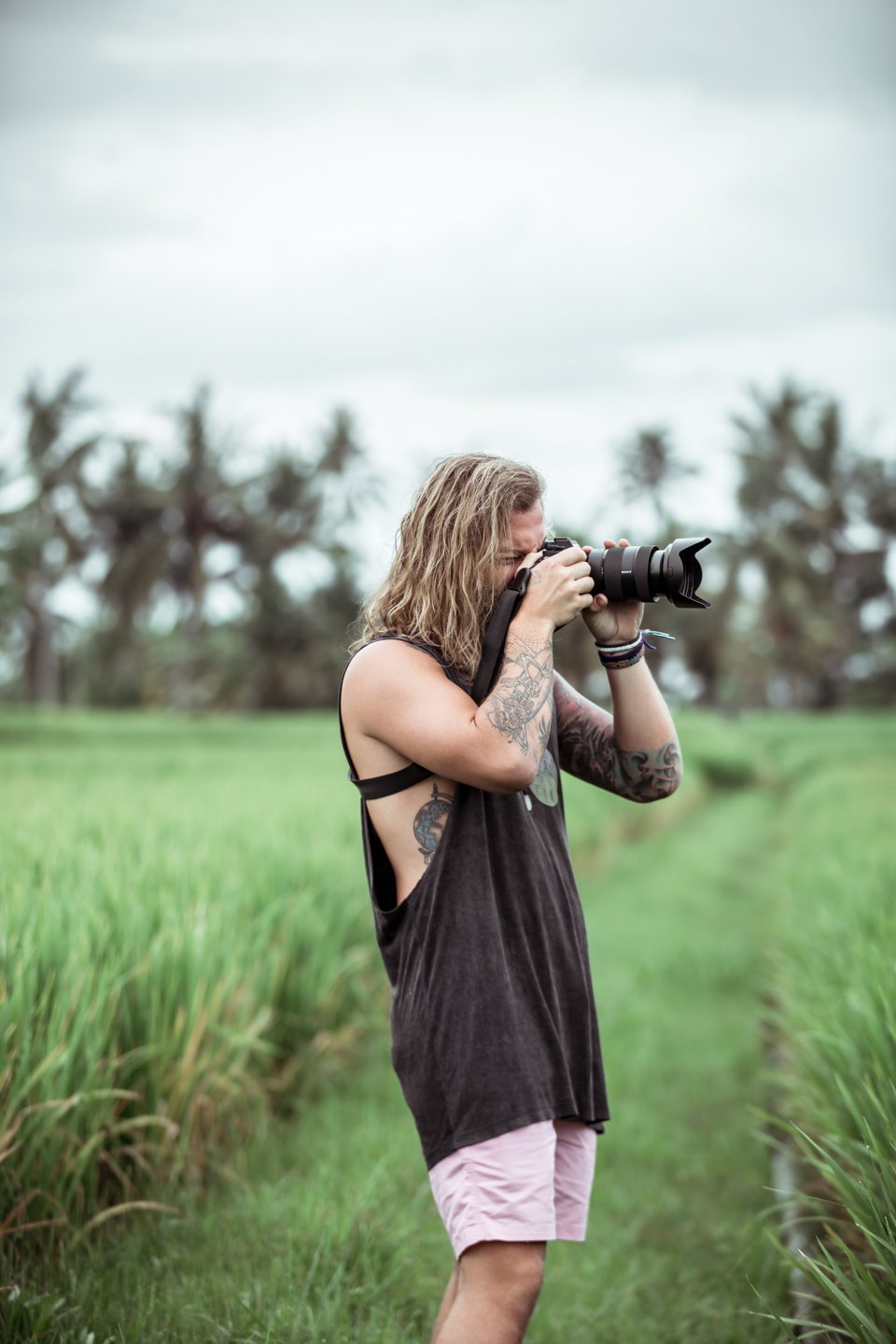 How did you find us?
When I first stumbled upon IOC, my first reaction was – what is this?
I had never heard of courses like this before. At the time I was travelling through Thailand and the course started the week after I had finished up in Bangkok – and Bali's only around the corner, right?
It was the right time and right place for this sort of thing but I still had no idea what the course was really about. I decided to enrol once I spoke to the Renee Hannel, aka Renee Roaming (@reneeroaming). She really filled in the blanks for me and by the end I said 'stuff it' and booked straight away. I figured that, in the end, I would have made some good connections – even if the course wasn't for me.
Meeting Renee (my favourite photographer ever) was a big thing for me. And I soon realised she was just a normal Aussie gal on the same path that I was – only with a five year head start and a wealth of experience.
All of our teachers, and our hosts, made everything really easy. Before I knew it, I was in complete awe of all the photographers and influencers there.
What did you want to get out of the Social Media Bootcamp?
I had three main reasons for wanting to attend…
I wanted change and I knew this would be the first step in making that change (investing in yourself is money well spent, in my eyes).
I was passionate about photography but didn't feel like I had the necessary skills or strategy to turn that into a business.
I wanted to walk away from the retreat with everything I needed to build a career on Instagram.
Describe your experience…
One of the things I was nervous about before the course was whether we would dig deep enough into each subject or just skim the surface. But it was obvious from day one that my fears were unfounded. 
The mentors were willing to share literally everything they know – all the skills they have used to build six-figure careers – with us.
On one hand it was pretty intense – there were eight hours of class each day – as well as optional electives, like sunrise photography lessons (wanting to make the most of my time, I took advantage of all of these). And after class we often sat around together, strategising our personal brands or practicing the skills we had learn that day – like editing our photos in Lightroom.
On the other hand, this course just has the most chilled vibe ever. I wish school was like that back in the day. I probably would have learnt a lot more!
From the amazing food and adventures to the connections I made with students and mentors from all over the world, I can honestly say I was blown away by the whole experience.
What's your favourite memory from bootcamp?
Probably the in-pool breakfast. Seriously, who eats breaky in a pool?
We did. That's who.

What effect did the Social Media Bootcamp have on your life?
I walked away from the course with a clear strategy and plan for exactly how to grow my business. I knew which areas to focus on (so I could maximise my time) and I knew how to pitch to brands to land both paid work and unpaid collaborations.
Within the space of two months I had tripled my Instagram following.
I've since landed free skydiving packages, a Kombi van hire for four days and a bunch of free clothing – all in exchange for content creation and promotion on my Instagram. And I'm getting paid work creating promotional videos and photos for clients.
As part of the course we all developed a 12-month strategy for ourselves – and I am ahead of the goals I set for myself. If I keep going at this rate, I'll be able to pursue this full-time within less than a year.
What would you say to someone considering attending our Social Media Bootcamp?
Don't think about it – just do it. You won't regret it