Welcome back to our series focusing on amazing women-in-tech! In the second article in this series, we talked to author of Girl Geek Rising, Heather Cabot.
In this chat, we talked about Heather's rise as an anchor-turned-journalist-turned-lecturer-turned-author, as well as some of her views about some of the most critical issues facing diversity in the tech industry.
Firstly, congratulations on your book! Girl Geek rising is a book that features some truly incredible women, from CEOs, to founders, to engineers, to educators and more! What gave you the idea to co-author such a book?
Thank you! I was working for Yahoo! as a digital lifestyle correspondent reporting on how the web was transforming daily lives when I started meeting a number of very impressive female founders of tech startups. This was back in 2007 at the dawn of mobile and it was clear that these women were banding together to support one another's success in the very male-dominated tech industry. I have a daughter and I was intrigued by their fortitude and wondered what they could teach the rest of us about succeeding in the tech world.  My co-author, Samantha Walravens, had worked in SV [Silicon Valley] during the dot com boom and bust, and became very interested in the state of women and sexism in tech as she stayed in touch with former colleagues. We joined forces so we could cover the whole story from two coasts. She's based in the Bay Area and I am based outside NYC. We interviewed more than 250 sources for the book over five+ years.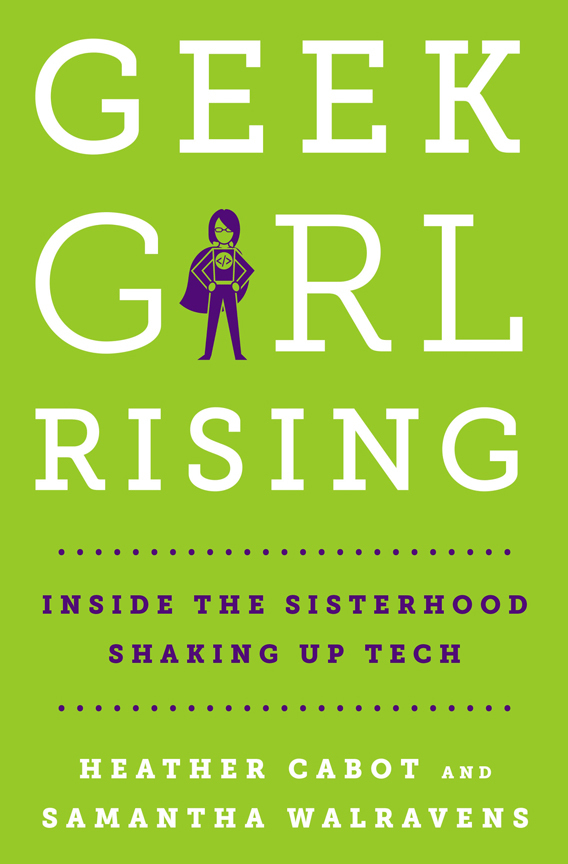 In your time finding out more about these incredible women, what is one big takeaway that might have even surprised you?
I was surprised at how many stories there were — way too many to put in a printed book. Every time we would start to narrow down which people to include, we would get introduced to yet another interesting woman and her story would draw us in.

 
Your own professional history is varied. You started off as an anchor, then went on to lecture, became a VC fund member, and now you're an author. Can you tell us about what has guided and motivated you throughout this journey?
I have always been a storyteller and have had the privilege of drawing on my skills in a variety of media. I spent the first half of my career on television as a news reporter and anchor. I was fortunate to also continue writing for newspapers and magazines along the way. Writing has always been a passion. All of my experiences prepared me for where I am today. I teach on-camera skills at Columbia J-School which allows me to share my two decades of TV work with the next generation. When I invest in startups, I look at the story the founders have to tell and often act as a media adviser to them, coaching entrepreneurs on presentation and publicity. My work with Yahoo and startups led me to try to connect the dots across the tech ecosystem in the book — technologists, entrepreneurs, investors, advocates and educators — and that is how it is laid out.

 
Statistics show only 3% of startups are owned by women. Working with so many female-led organisations, what can you tell us about your own experiences with the diversity issues we see, especially in high-growth tech areas?
There is no doubt that raising capital to scale a business remains incredibly tough for women and even more challenging for women of colour. While sexual harassment is an insidious problem in venture capital, I think one of the biggest hurdles for female founders is the lack of a network before they even get to the point of trying to raise money from VC's. So often success in the very insular world of tech comes through "warm introductions", and if you didn't go to an Ivy League school or have the right connections through your family or friends, it is very hard to even meet the right people to help you get started. This is why it is crucial for women to pull each other up. And what we documented in the book is that women in this space know this to be true. As they become successful, they are paying it forward — by investing in other women, mentoring them, championing their businesses, collaborating with them and promoting each other publicly.
Google earlier this year fired an employee for an anti-diversity manifesto. What are your views on that, and what do you think of Google's response?
I was not surprised by the manifesto because i believe that it represents the views of many male engineers.  A lot of women, while offended by it, felt validated by the very fact of its existence and public airing of it. Women do not imagine bias and hostile work environments in tech. It's real. I think Google did what it had to do by firing the writer.
I loved what the former Googler Yonatan Zunger wrote in response to the manifesto's claim that empathy doesn't belong in engineering. To me, Zunger underscored why we need all kinds of people building products in these companies, people who bring a range of life experience and yes, empathy to the table:
My favourite quote from the piece: "Engineering is not the art of building devices; it's the art of fixing problems. Devices are a means, not an end. Fixing problems means, first of all, understanding them — and since the whole purpose of the things we do is to fix problems in the outside world, problems involving people, that means that understanding people, and the ways in which they will interact with your system, is fundamental to every step of building a system."
What is your advice for how we as individuals, and as companies, can support WIT? And diversity as a whole?
Learn to listen. I recently interviewed a number of men who lead "male ally" groups at some of the top MBA programs in the U.S. And one of the most important things they do is try to educate other men about what it's like to be a woman and how often the privilege of being male (and white) can make them take for granted their place in the world and how challenging it is for others to reach the same plane. Men can make a big difference just by being aware. Small things like being conscious of speaking over women or making sure women get credit and recognition for their ideas goes a long way.
Companies need to address equal compensation and making individuals feel valued and included. Project Include, the non-profit co-founded by Ellen Pao and six other female advocates for diversity in tech, offers practical approaches for companies to improve culture and the retention of diverse employees.
What would your best advice be for a female who's just about to enter the tech industry?  And what would your advice for anyone looking for their first tech-based job?
Be yourself and look for opportunities to find support from other women in real life and online. Get involved in the women's group at work and say yes to opportunities to mentor younger women and students. Ask if there is a male ally organization and get to know colleagues who care about diversity. Before you accept a job, listen to your gut about the culture of a company and make sure you do your homework about what it's like to work there and the compensation. Again — rely on the power of the sisterhood and work your network to get the inside scoop on the job opportunity and if it is right for you.  In addition to leaning on your college networks, there are so many fantastic professional organizations cropping up for women in tech and entrepreneurship like SheWorx, Write Speak Code, Women Who Tech, etc. Get involved and start meeting people in your community. And read everything you can by people you respect in your industry.
What is one of your favourite books at the moment that you would recommend?
I finally read "Hillbilly Elegy" this summer by J.D. Vance and I think it is an incredibly important book.

Lastly - if you could have a meal with and chat to any person in history, living or dead, who would that be?
Eleanor Roosevelt

Alright, I know you want to. Feel free to plug your book here! Tell us all about it!
Geek Girl Rising: Inside the Sisterhood Shaking Up Tech (St. Martin's Press, May 2017)  is an acclaimed non-fiction narrative that reveals the stories of the women disrupting "business as usual" in Silicon Valley and beyond. These trailblazers are going for it - launching their own tech startups, investing in each other, crushing male hacker stereotypes, building new networks and inspiring the next generation. GGR is an invitation to all women to stake a claim in the digital revolution, to be fearless and build the future.

GGR is being developed into a scripted TV series by ABC Studios and Milojo, the production company owned by Kelly Ripa and her husband, Mark Consuelos.  Purchase wherever books are sold including here, here, here and here.
And if you love it, please give us a review on Amazon and Good Reads. It helps a lot!! Follow us on Twitter @geekgirlrising, and me at @cabotventures