Better known as "Mo" to her closest friends, Annie is a bonafide hustler. She went from bartending to formulating marketing strategies for a major e-commerce retailer in one swift career move. Never one to get too comfortable, she took the ultimate plunge and decided to open up her own digital marketing consultancy - Mo Creative. Her drive and capacity for growth led her to us. She wanted to do more and offer more to her clients - coding literacy was the next frontier for her.
With her eye on the money, Annie was set on creating an alternate version of her business's current website. She applied her penchant for clean design to her take on her final website. The re-imagined version of her website is a knockout with a flat color palette and use of the font of the moment - Raleway. Dig into Annie's story below to read more about her IOC experience:
TELL ME A LITTLE ABOUT YOURSELF AND YOUR CAREER
I began my career by accident. I knew I needed a "real" job, and I was sick of my life as a bar manager. I applied for so many jobs at once, that's when I got a call back from The Iconic, I couldn't even remember applying. I honestly didn't even remember what the role was. After stumbling through the interview, I quickly climbed the ladder at the company. At the time, The Iconic was built on plastic tables, ready to collapse at any moment, but the role was what I needed to spark the entrepreneur in me. I quickly began freelancing and contracting for agencies, before being headhunted by Ebay. After moving to Melbourne to become an e-commerce manager, I began to really build my freelance client base until launching Mo Creative early this year.

WHY DID YOU DECIDE TO LEARN TO CODE?
I had a few reasons. I wanted to be able to communicate more clearly with my web developers, but I also wanted to extend my skills beyond the template websites I had been working with for the last few years. I wanted to expand my potential to create better digital products for my clients.
AS AN ENTREPRENEUR, WHY IS AN IMMERSIVE LEARNING ENVIRONMENT RIGHT FOR YOU? WHY IOC?
Being a business owner, switching off can be near impossible. Being forced to let go of the work at home allowed me to truly learn and immerse myself in HTML and CSS. I had tried online courses before that were so easy to deprioritize. IOC was the only chance I had to walk away knowing how to code.
HOW DID YOU FIND THE EXPERIENCE?
The experience was one for the books. IOC is so much more than learning to code. You have 10 days that are entirely for you, your growth, career and future. I couldn't ask for more from my time in Bali.
HOW DO YOU THINK THE EXPERIENCE WILL IMPACT YOUR CAREER?
I think, more than anything, the experience has given me the confidence to walk into any situation in my career. I feel well equipped with my diverse knowledge and skill base, which now includes coding, to attract and retain clients for the long run.

WHAT WAS YOUR FAVORITE MEMORY FROM THE COURSE?
That is a hard one. Probably passing out, completely intertwined on the big couch, with all of my new fraanndsss.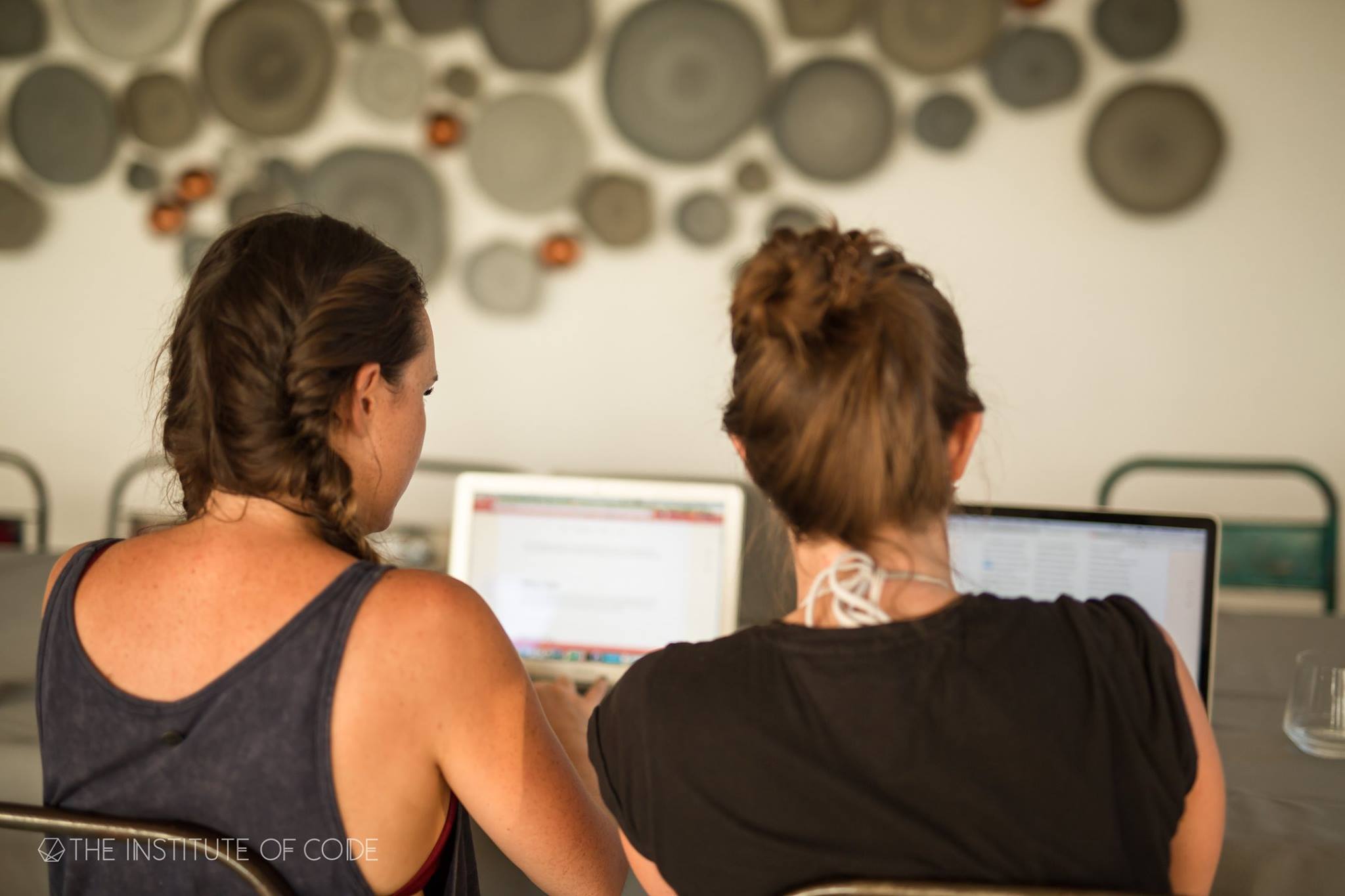 WHAT ADVICE WOULD YOU GIVE YOUR 21-YEAR-OLD SELF?
Nobody really knows what they are doing, they just know to Google it.