Coming in hot at number one among search listings for "Sydney Freelance Designer", Millie is a force to be reckoned with in her field. She came to us with a specific goal in mind: to finally be able to speak intelligently to her team of developers. As a business owner, she is always looking for ways to streamline her processes, and she felt as though her inability to knowledgeably deal with code held her back. Today, she confidently communicates with her team of developers to ensure that her design dreams come to life exactly as she envisions.
During her time with us, she made a point to include as much of the features and techniques she had learned into the development of her final website, so that she could practice using them IRL. Drawing upon her cheeky humor, she went for it and created a dating-profile website. The result of her coding efforts was an absolute beauty. But, we wouldn't expect any less from the highest ranking graphic designer in Sydney.
TELL ME A LITTLE ABOUT YOURSELF AND YOUR CAREER
I am a graphic and web designer based in Sydney, Australia. I run the business, Design by Mouse and have done so for over eight years. Design by Mouse first launched in 2009 and from that day, my focus has always been on delivering results for my clients.
Before starting Design by Mouse, I worked at a printing agency gaining prepress and printing skills for four years. These skills have been critical for the growth of my business and those four years were invaluable in terms of knowledge and expertise. Print brokering then became another service I provided in my business.
While I was in university, I did a lot of internships at creative agencies to gain experience. I wanted to be ahead of the game and have the best resume, to set myself up for the best opportunities after graduation. Funnily enough, I ended up hiring myself after realizing there was a gap in the market for a local designer where I lived - that is how Design by Mouse came to be.
WHY DID YOU DECIDE TO LEARN TO CODE?
I have a team of developers that I work with who take my design files and magically turn them into code. Before attending IOC, I had little-to-no knowledge of what they actually did with my files – I just hoped for the best. I wanted to know how to speak their language, so that I could prepare better briefs with confidence and clarity. This would streamline my business by allowing me to turn projects around faster and more effectively.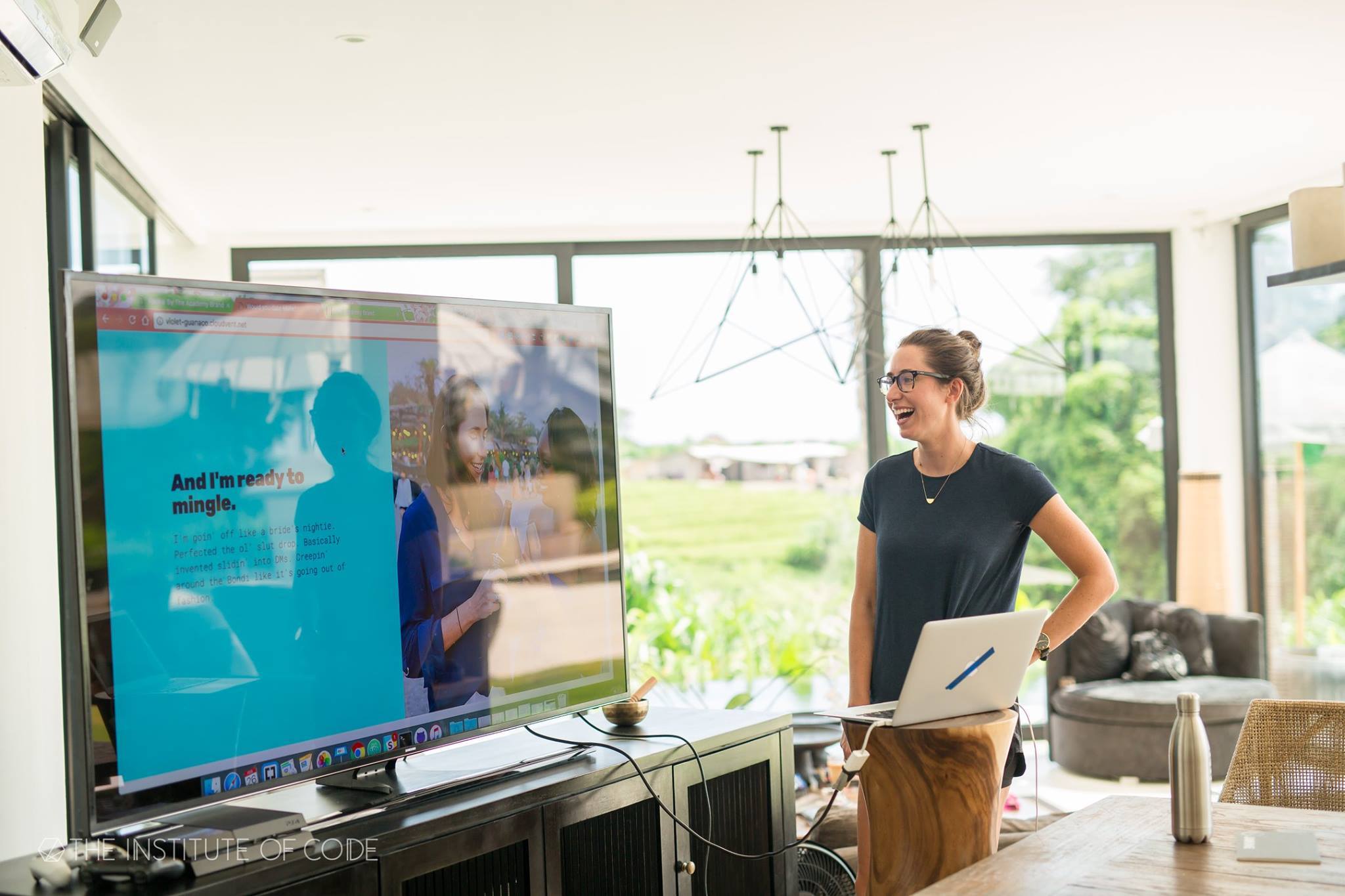 AS AN ENTREPRENEUR, WHY IS AN IMMERSIVE LEARNING ENVIRONMENT RIGHT FOR YOU? WHY IOC?
I was keen to escape my day-to-day work routine in Sydney, so that I could totally focus on learning how to code. If I was to attend the same course in Sydney, I would be getting calls from clients. I would find myself having to attend meetings after hours.
In Bali, you're completely removed from your usual environment, and you're forced to turn your full attention to learning this new language…and it worked! Clients knew I would be overseas, so they knew to hold off on any urgent design requests until I got back.
An immersive learning environment is the only way to truly soak up a new skill and feel independently confident in your knowledge. Another course I considered was 10 weeks long. I knew that if I was not continually learning and using the skills I was learning that day or week, I was going to forget them. With IOC, you use the skills learned on each day and build upon that knowledge base with each lesson. It meant that all our lessons stayed top of mind. The mentors were available around-the-clock to help answer all the questions we had, too. This meant that we could keep coding away without interrupting our workflow.
HOW DID YOU FIND THE EXPERIENCE?
The IOC experience was life-changing. I now know a new language, which I use in my day-to-day business life, and it has helped me communicate more effectively with my employees. This is by far one of the best investment I've made not only in my business, but in myself.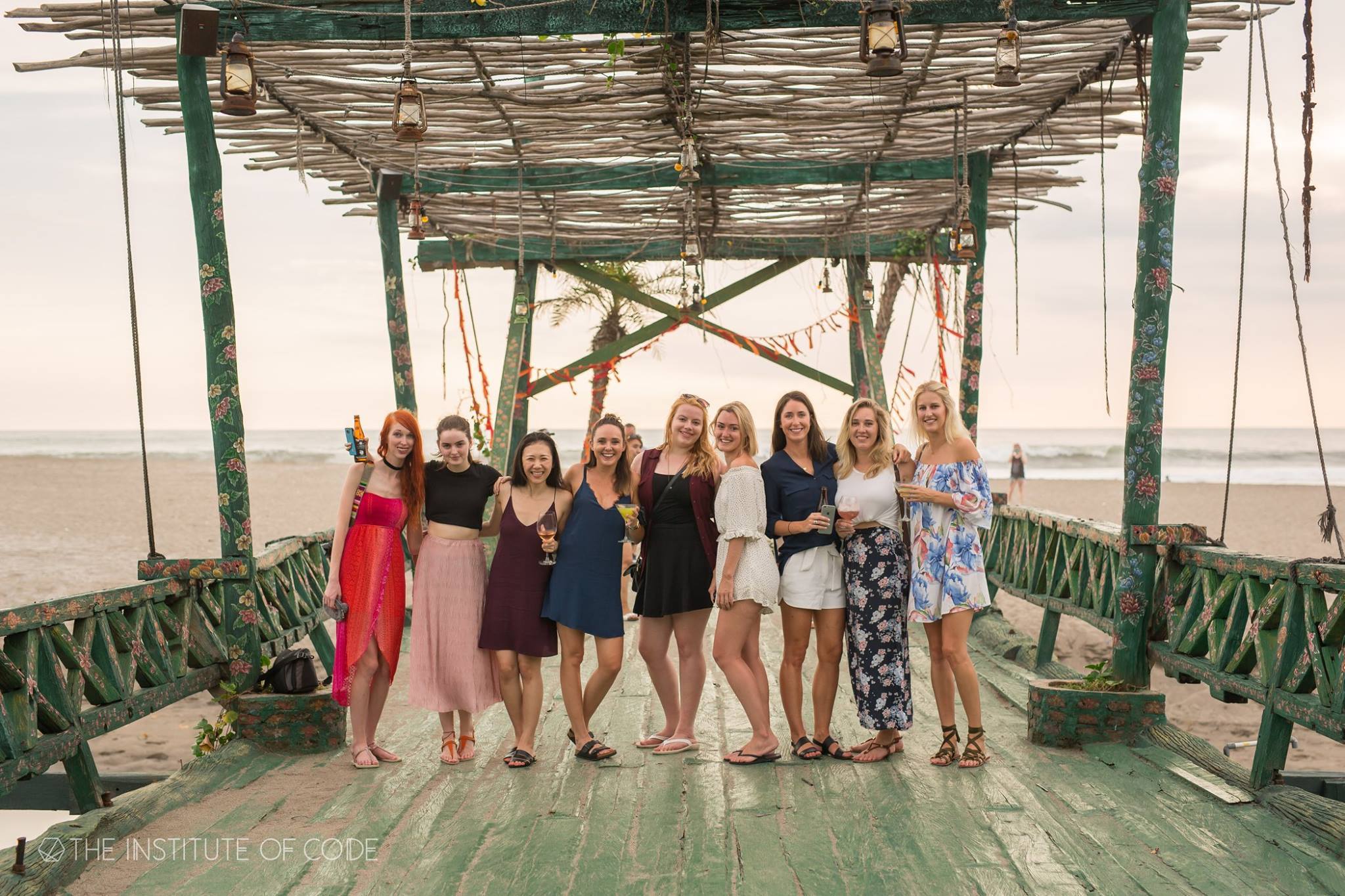 The food, the people, the villa, the course – everything was fantastic. There was nothing I could fault.
HOW DO YOU THINK THE EXPERIENCE WILL IMPACT YOUR CAREER?
Now that I have been back to my normal work life for 4 weeks, I have used the skills daily. Knowing how to tweak code, add code and talk code has meant my business is now more efficient and profitable. The ability to edit code has saved me invaluable time and money that would have been spent relying on developers. And the best part is that projects are being completed ahead of schedule!

WHAT WAS YOUR FAVORITE MEMORY FROM THE COURSE?
The people were amazing. It was such a fantastic learning environment not only because of the food and villa, but mainly because of the other coders and mentors. Everyone was on the same wavelength in terms of learning and attitude. I've made life-long friends, and we are all still in contact asking each other coding-related questions.
WHAT ADVICE WOULD YOU GIVE YOUR 21-YEAR-OLD SELF?
Everything happens for a reason. Do something because you love it, not for the money.