When I first launched my business, the Media Institute, I pretty much had the web skills of a monkey. In fact a monkey probably had better web skills than me; my skills didn't exist whatsoever. As a former journalist I've always been good with words, that's my thing. Tech skills, not so much. I didn't know the difference between HTML and CSS and thought JavaScript had something to do with coffee produced from an Indonesian jungle.
After completing my first code retreat with the Institute of Code, however, things started to change. And while I'm no tech expert, I've learned some incredible skills that have helped me expand my client offering and understand my website, all of which has all led to new ventures and opportunities.

Understand Code Speak
Something incredible happened when I left that 10-day code retreat in the Balinese tropics.
I was like Sandra Dee from Greece when she bursts back onto the scene and re-appears in biker leather, giant heels, red lipstick and an exceptional perm.
Okay so it wasn't quite the same, but I did have a newfound confidence about the conversations I could have with my web developer and could finally understand the concepts around what goes into building a kickass website.
Suddenly I could tell him which "href" links weren't working or linking effectively.
I could explain with confidence what needed adjusting, whether it was a hot pink hover link here or an increase in padding there.
Before I was even quoted by my developer to make further changes, I knew roughly the time it would take him to fix it and roughly how much it would cost me based on the complexity of the job. There is nothing worse than not understanding something, which can lead to poor decisions or being ripped off when it comes to web development – a problem many business owners have without even realizing.
By learning how to code, you can have more intellectual conversations with a web developer and improve your understanding of how your website works and how you want it to function.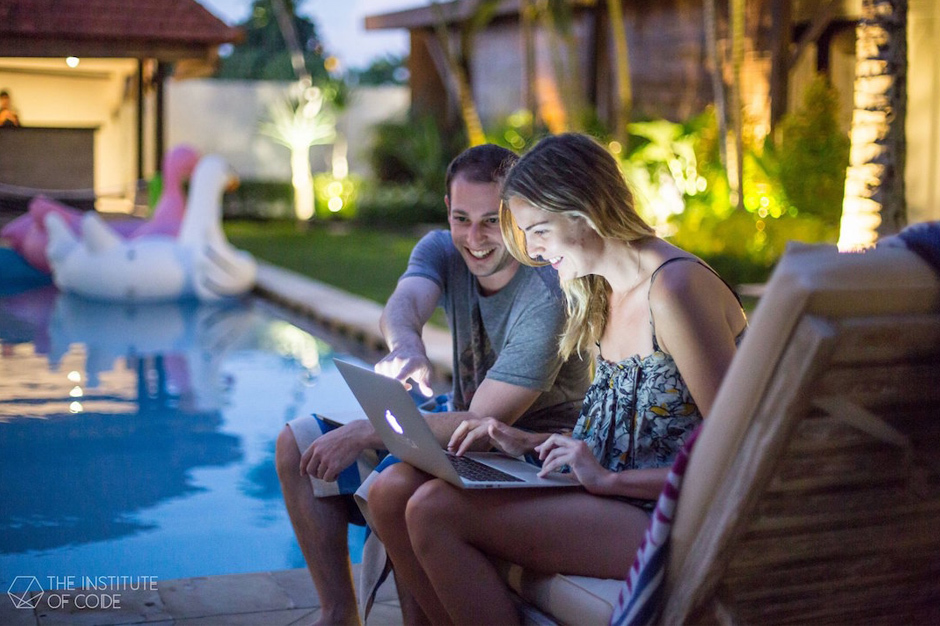 Update Your Site Without a Developer
In my first 10 days of learning to code I produced two websites. One was a website for a business that sells smoothie boosters. I learned how to create a complete e-commerce site including a feature video and Instagram slider and gained knowledge about how businesses can effectively capitalize on a number of features that not only look good but help them increase sales.
Because of these experiences, I now the ability to change the content on my own site as I see fit.
Open Other Doors
My current business is all about helping people write amazing stories and giving them the confidence to tell it to the media. As well as publicity management and strategy consulting, I offer social media services, influencer marketing and copywriting.
Now, I can add web development as another income stream and service for my clients.
-
While I was at the Institute of Code, I spent a fair amount of time lying by the pool and working on my tan, exploring the sites of Bali, eating incredible food and drinking delicious cocktails. Sounds like torture right?
This retreat has allowed me to upskill in paradise, open up new doors for my career, connect with other creative people and form lifelong friendships.